Could it happen in this age of greed? A leading international musician pays his own way to travel thousands of miles to celebrate the independence of an African nation. He spends a night in a rundown hotel; smokes marijuana with farmers; survives teargas and writes a song that goes down in history. This was Bob Marley 35 years ago at the birth of Zimbabwe – an African story told by those who were there.
It all started with the impossible dream in Harare. Two Zimbabwean businessmen, nightclub owner Job Kadengu and Gordon Muchanyuka, wanted a big name to serenade the new Zimbabwe at midnight on April 17, 1980. Kadengu and Muchanyuka agreed Bob Marley was their man. The two flew to Kingston, Jamaica, to invite Marley, just weeks before independence day.
"Chris Blackwell, his manager at the time, was against this tour, but Marley, who had been following events in Zimbabwe, decided he would go," says Fred Zindi, now a professor at the University of Zimbabwe, then, one of the Marley dreamers. "He hired a PA system in London and paid for his freight to Zimbabwe at his own expense."
Marley had inspired Zimbabwe.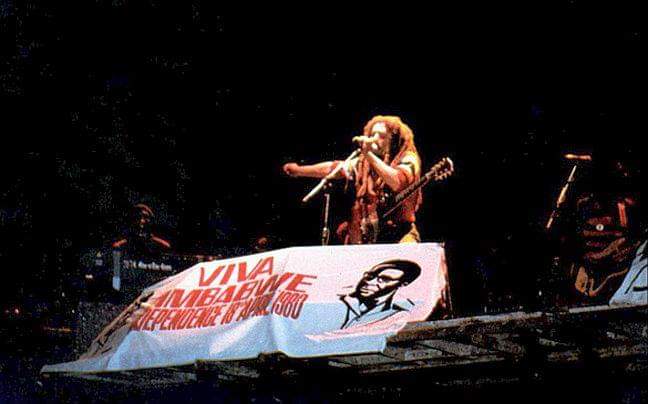 During the years of Chimurenga (chiShona for uprising), Bob Marley's music had been adopted by the guerrilla forces of the Patriotic Front; indeed, there were stories of ZANLA troops playing Marley cassettes in the bush," says Zindi. "Certainly, Marley's music has potency and a commitment which goes far beyond simple entertainment. He now enjoys a special place in Third World culture; an artist who directly identifies with the black African struggle. Thus, he was the only outside artist asked to participate in Zimbabwe's independence celebrations."
"His songs were the food that people in liberation movements, particularly the armed wings, were swallowing," says Shadrack Gutto, a Unisa professor and constitutional law expert in South Africa, who was to teach law in Zimbabwe for 12 years. "From that point of view… to be able to see that music was an important aspect of the liberation of this continent. Bob Marley, like Amilcar Cabral (the first president of Angola), articulated so well the importance of the role of culture and music in the liberation struggle."
You wanna visite this country of wonders ? you wanna live the african dream ? join us on
https://www.sarahtours.com/zimbabwe-tours
Tags: ADVENTURE TOURS FROM MOROCCO TO ZIMBABWE, BEST GUIDED TOURS TO ZIMBABWE, BEST PLACES TO SEE IN ZIMBABWE, ZIMBABWE CULTURAL EXPERIENCE, ZIMBABWE EXPRESS TOUR AND SAFARI, ZIMBABWE OVERLAND EXPEDITIONµ