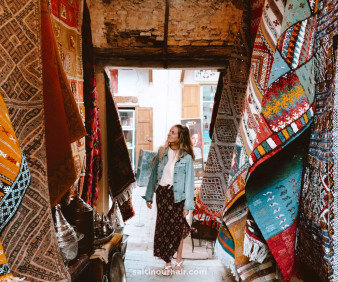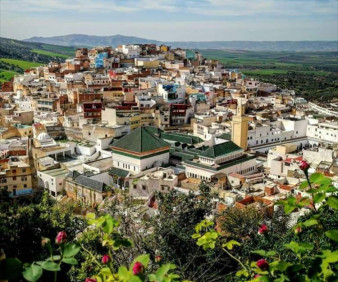 Is group travel tours cheaper than individual? On all our Morocco from Spain tours, you will start your tour in Tangier and travel along the scenic route, a ceremonial ride in the footsteps of an old Roman pathway. This will lead you to Volubilis, a Roman Capital of ancient Mauritania Tingitana, actually Morocco. Next, you will travel to Fez, the Venice of Morocco. Finally, you will reach the heartbeat of Morocco in every conceivable way, the ancient city of Fez. This Three Days Tour to Morocco from Spain is an in-depth cultural and adventure short tour to explore Morocco's best history and culture. You will be traveling in a small group tour escorted by the best tour guides who will give you the best Morocco cultural experience whether you join a small group scheduled tour or wish to travel independently in a private customized tour just for you. Enjoy our Morocco from Spain tours with daily departures for 2023 and 2024. How many days is enough? Three days to Morocco from Spain is an excellent introductory tour
DAY TO DAY ITINERARY
Day 1: Travel from Tangier to Fez
Take the ferry from Tarifa to Tangier in the morning, where you will find your tour leader waiting for you to greet you at Tangier's ferry landing. Proceed immediately to Fez, visiting on your way to the medieval town of Chefchaouen. The first mountain town you will visit will be the blue town of Chefchaouen. Nestled in the Rif mountains, it is one of the most picturesque white towns of the Mediterranean and a UNESCO world heritage site. Proceed to Fez, where your local guide will be available to give a tremendous historical tour of Fez El Jadid and the Jewish quarter. The afternoon will be devoted to the synagogue. Nearby the community center is Roben Ben Sadoun Synagogue, built in the 1920s; it is decorated with exquisite plaster carving reminiscent of the decoration of traditional mosques and madrasas. It is large by the standards of Morocco, where every wealthy Jewish family desired its synagogue. Walk in the afternoon to the Medina of Fez and spend the whole afternoon in the souks of this enticing Medina.
Day 2: Fez walking tour of the Medina
Walk to the Medina to explore the Andalusia part. Undeniably fascinating, Fez stimulates the senses with its haunting yet beautiful sounds, visual splendor, and evocative smells. The most ancient imperial capital and the most complete medieval city of the Islamic world, Fez is reminiscent of a city suspended in time, unfazed by the constantly evolving world outsides its walls, owing nothing to the Western world save electricity. Time spent in Fez will reveal much about the sophistication of the Moroccan artisan, providing an unparalleled learning experience to those who cross its path. Your whole day will be spent visiting the Medina and its souks and Bazaars
Day 3: Travel from Fez back to Tangier via Volubilis
Take off after breakfast from Fez to the holy city of Moulay Idriss, where your local will be expecting you to give you a walking tour in one of the oldest Arab towns in Morocco. Nearby you will explore the Roman site of Volubilis, then continue on your discovery to Tangier. Lunch will be on the road. We will drop you off at the Tangier Port to catch your ferry back to Spain—the end of our services. Come back and join us for more to explore on our tours from Spain to Morocco.
What is included:
Services of local guides
Land Transportation in Luxury Vans
Breakfast, and dinner daily
Fees to Monuments and Museums
Hotel taxes and service charges
Multi-lingual Tour leader
Hotels Used:
Fez: Hotel L'Escale or Riad Ghita, 2 nights
| DEPARTING | FINISHING | SEATS | TOTAL IN USD | |
| --- | --- | --- | --- | --- |
| Thu 14 Dec 2023 | Sun 17 Dec 2023 | Available | $485 | RESERVATION |
| Sun 17 Dec 2023 | Wed 20 Dec 2023 | Available | $485 | RESERVATION |
| Wed 20 Dec 2023 | Sat 23 Dec 2023 | Available | $485 | RESERVATION |
| Sat 23 Dec 2023 | Tue 26 Dec 2023 | Available | $485 | RESERVATION |
| Tue 26 Dec 2023 | Fri 29 Dec 2023 | Available | $485 | RESERVATION |
| Fri 29 Dec 2023 | Mon 1 Jan 2024 | Available | $485 | RESERVATION |
Cost per person: $485 USD
Single supplement: $0 USD
MAKING AN INQUIRY
All of our tours can be customized for private travel according to your preferences and dates. Click below to tell us what you're looking for:
Plan my Trip