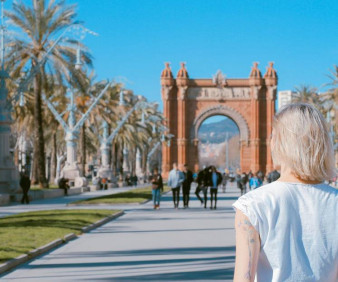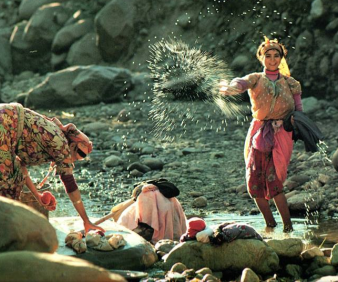 This two-week overland adventure tour from Madrid to Marrakech trip is hand down one of the most culturally eclectic expeditions that one can take so close to home. Our adventure expedition is an intimate experience with private transport to explore the best scenic roads and off-the-path trails through the three countries of Spain, Portugal, and Morocco that we have featured on our carefully customized for active travelers.
Our group adventure tour starts in Spain's capital, exploring Madrid's fine collections of art galleries and all-around metropolitan highlights. We then take the road toward the historic Salamanca before heading across the border into Portugal. We will travel the scenic road of Portugal to Coimbra, where we will spend two nights exploring the marvels of this ancient city in a small boutique hotel. We then head south to spend a couple of days roaming around Portugal's stunning capital of Lisbon, the stunning capital city of Portugal. Lisbon is one of the most charismatic and vibrant cities in Europe. It is a city that effortlessly blends traditional Portuguese heritage with striking modernism and progressive thinking. As a holiday destination, Lisbon offers a rich and varied history, a buzzing nightlife, and a glorious year-round climate. After a couple of days on the Algarve coast, enjoying the peninsula of this Atlantic relaxing beach, we will pop back into Spain for 24 hours so that we can take the boat to Morocco, taking a quick visit to the great city of Seville, and the triangle of Cherry, where everything changes from Spaniard culture to Moorish Andalusian culture. You can notice the Moroccan influences already, with its Moorish Islamic architecture standing proudly alongside flamenco dancing and tapas bars.
At Tarifa, we take the hydrofoil ferry to Tangier. A dramatic cross at the Straight of Gibraltar when leaving Europe to Africa right between the Atlantic Ocean and the Mediterranean. It is only an hour's cross, but it could be an adventure you will treasure forever. We will travel straight to Chefchaouen, one of the best blue cities in the Mediterranean basin, nestled at the peaks of the Rif Mountains. Every city in Morocco has its character and eclectic identity. Morocco's imperial cities are all exciting in their ways, as we spend two days in Fez will reveal the Moroccan arts and crafts sophistication, with its well-preserved ancient Islamic heritage. The Old Medina of Fez does not owe anything to modernity but electricity. And finally, we take an overland trek across the Atlas Mountains to Marrakech, a city that needs little introduction. Marrakech leaves the most memorable marks for its vibrant, sense awakening, and exciting atmosphere Joie de Vivre. Are you ready to explore the marvels of Spain, Portugal, and Morocco on our overland trek? Then hop in our 4X4 truck and enjoy this small group adventure tour featuring the best of Spain, Portugal, and Morocco.
DAY TO DAY ITINERARY
What is included:
Services of local guides
Breakfast, and dinner daily
Transportation in 4X4 vehicles
Fees to Monuments and Museums
Accommodation in Boutique hotels 3*
Hotel taxes and service charges
Hotels Used:
| DEPARTING | FINISHING | SEATS | TOTAL IN USD | |
| --- | --- | --- | --- | --- |
| Sat 17 Jun 2023 | Sun 2 Jul 2023 | Available | $3200 | RESERVATION |
| Sat 1 Jul 2023 | Sun 16 Jul 2023 | Available | $3200 | RESERVATION |
| Sat 15 Jul 2023 | Sun 30 Jul 2023 | Available | $3200 | RESERVATION |
| Sat 29 Jul 2023 | Sun 13 Aug 2023 | Available | $3200 | RESERVATION |
| Sat 12 Aug 2023 | Sun 27 Aug 2023 | Available | $3200 | RESERVATION |
| Sat 26 Aug 2023 | Sun 10 Sep 2023 | Available | $3200 | RESERVATION |
| Sat 9 Sep 2023 | Sun 24 Sep 2023 | Available | $3200 | RESERVATION |
| Sat 23 Sep 2023 | Sun 8 Oct 2023 | Available | $3200 | RESERVATION |
| Sat 7 Oct 2023 | Sun 22 Oct 2023 | Available | $3200 | RESERVATION |
| Sat 21 Oct 2023 | Sun 5 Nov 2023 | Available | $3200 | RESERVATION |
| Sat 4 Nov 2023 | Sun 19 Nov 2023 | Available | $3200 | RESERVATION |
| Sat 18 Nov 2023 | Sun 3 Dec 2023 | Available | $3200 | RESERVATION |
| Sat 2 Dec 2023 | Sun 17 Dec 2023 | Available | $3200 | RESERVATION |
| Sat 16 Dec 2023 | Sun 31 Dec 2023 | Available | $3200 | RESERVATION |
| Sat 30 Dec 2023 | Sun 14 Jan 2024 | Available | $3200 | RESERVATION |
| Sat 13 Jan 2024 | Sun 28 Jan 2024 | Available | $3200 | RESERVATION |
| Sat 27 Jan 2024 | Sun 11 Feb 2024 | Available | $3200 | RESERVATION |
| Sat 10 Feb 2024 | Sun 25 Feb 2024 | Available | $3200 | RESERVATION |
| Sat 24 Feb 2024 | Sun 10 Mar 2024 | Available | $3200 | RESERVATION |
| Sat 9 Mar 2024 | Sun 24 Mar 2024 | Available | $3200 | RESERVATION |
| Sat 23 Mar 2024 | Sun 7 Apr 2024 | Available | $3200 | RESERVATION |
| Sat 6 Apr 2024 | Sun 21 Apr 2024 | Available | $3200 | RESERVATION |
| Sat 20 Apr 2024 | Sun 5 May 2024 | Available | $3200 | RESERVATION |
| Sat 4 May 2024 | Sun 19 May 2024 | Available | $3200 | RESERVATION |
| Sat 18 May 2024 | Sun 2 Jun 2024 | Available | $3200 | RESERVATION |
| Sat 1 Jun 2024 | Sun 16 Jun 2024 | Available | $3200 | RESERVATION |
| Sat 15 Jun 2024 | Sun 30 Jun 2024 | Available | $3200 | RESERVATION |
| Sat 29 Jun 2024 | Sun 14 Jul 2024 | Available | $3200 | RESERVATION |
| Sat 13 Jul 2024 | Sun 28 Jul 2024 | Available | $3200 | RESERVATION |
| Sat 27 Jul 2024 | Sun 11 Aug 2024 | Available | $3200 | RESERVATION |
| Sat 10 Aug 2024 | Sun 25 Aug 2024 | Available | $3200 | RESERVATION |
| Sat 24 Aug 2024 | Sun 8 Sep 2024 | Available | $3200 | RESERVATION |
| Sat 7 Sep 2024 | Sun 22 Sep 2024 | Available | $3200 | RESERVATION |
| Sat 21 Sep 2024 | Sun 6 Oct 2024 | Available | $3200 | RESERVATION |
| Sat 5 Oct 2024 | Sun 20 Oct 2024 | Available | $3200 | RESERVATION |
| Sat 19 Oct 2024 | Sun 3 Nov 2024 | Available | $3200 | RESERVATION |
| Sat 2 Nov 2024 | Sun 17 Nov 2024 | Available | $3200 | RESERVATION |
| Sat 16 Nov 2024 | Sun 1 Dec 2024 | Available | $3200 | RESERVATION |
| Sat 30 Nov 2024 | Sun 15 Dec 2024 | Available | $3200 | RESERVATION |
| Sat 14 Dec 2024 | Sun 29 Dec 2024 | Available | $3200 | RESERVATION |
| Sat 28 Dec 2024 | Sun 12 Jan 2025 | Available | $3200 | RESERVATION |
Cost per person: $3200 USD
Single supplement: $645 USD
MAKING AN INQUIRY
All of our tours can be customized for private travel according to your preferences and dates. Click below to tell us what you're looking for:
Plan my Trip