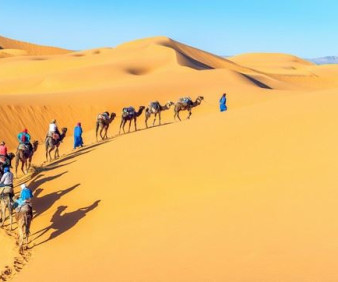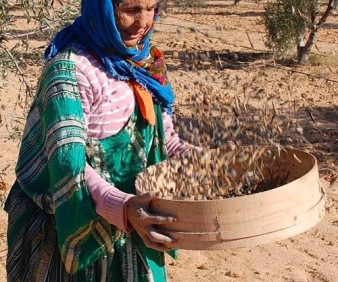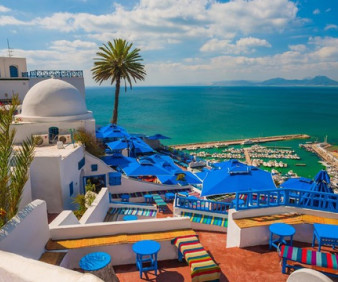 Welcome to our Tunisia Tours and trips. Discover Tunisia overland traveling with a small group is to explore the best Mediterranean lush vistas that would connect you to the lush green land of Tunisia olive groves, oases, and aridness of a vast Sahara desert as well. Tunisia's south and north are like two different countries contrasting both in climate and landscapes. The southern region of Tunisia seems to portray an era of the biblical aura seemingly an ancient Mesopotamia of adobe and roof gardens villages. On this Tunisia expedition trip, you will explore the vast Sahara expansion that seems surreal, with its oases plateaus bordered by mirages and golden sand dune. With all our 2022 scheduled departures Tunisia small group tours, you will explore the best of the Souss region of the Sahara desert, but hiking with this expedition along these lacing valleys and oases You will discover sandcastle-like kasbahs and romantic oases, where tall date palms groves hedged by silver-green reeds and acacia trees. Sand dunes in the far horizon are constantly reshaped by gentle winds, sheltered by azure-blue African skies shape the backdrop of Tunisia's lush vistas. Heaven on earth, this adventure tour is designed for any active and nature lover traveler who loves walking, hiking, and trekking challenging expeditions with guaranteed departures and small group tours to Tunisia.
Our adventure tours to Tunisia trekking through these breath-taking landscapes have attracted nature enthusiasts, artists, poets, photographers, and filmmakers. Our Tunisia active tours are enthralling and amazing, also easy paced. You will be able to capture the majesty and unsurpassed beauty of Tunisia's natural and manmade landscapes with your naked eye and through the lens of your camera. This Tunisia expedition is beyond National Geographic reach, It is literally a trip to an endowed heavenly destination, which has a depth that can only be truly embraced and appreciated by the naked eye.
We have designed this adventure tour and expedition to Tunisia especially for the outback lovers of nature and authenticity. It is an overland trek in the southern part of Tunisia. This overland expedition is offered for all kinds of travelers, from luxury accommodation to budget to backpackers. You do not have to be a Jog, if you can take a walk in the park then you can do this overland expedition. This Tunisia adventure tour starts in Tunis and ends in it as well as discovering ceremonial treks and footpaths. We depart from Tunis the green visiting major historic cities in the Sahara desert exploring cultural encounters and daily life in most remote oases. An active tour to Tunisia, unlike the other tours offered in the overland market.
Shoppers will love the Berber souks (daily markets) as all you see from produce to utensils, to crafts are locally produced. This Tunisia overland tour will continue on its way crossing some of the breathtaking oases and kasbahs (adobe castles) riding 4x4 Land Rovers through the great south of Tunisia where scenery changes on every horizon. You will reach in this expedition suddenly the vastness of the Sahara desert. No word can describe this ethereal God-made desert landscape, an ocean of emptiness yet so fulfilling. Welcome to the ocean of dunes and the land of the camel. Enjoy this trekking expedition in enticing Tunisia. Join our active tours to Tunisia best deals up to your budget for all our small group tours scheduled to depart in 2022 and 2023.
DAY TO DAY ITINERARY
What is included:
Hotels Used:
| DEPARTING | FINISHING | SEATS | TOTAL IN USD | |
| --- | --- | --- | --- | --- |
| Sat 24 Jun 2023 | Tue 4 Jul 2023 | Available | $2465 | RESERVATION |
| Sat 8 Jul 2023 | Tue 18 Jul 2023 | Available | $2465 | RESERVATION |
| Sat 22 Jul 2023 | Tue 1 Aug 2023 | Available | $2465 | RESERVATION |
| Sat 5 Aug 2023 | Tue 15 Aug 2023 | Available | $2465 | RESERVATION |
| Sat 19 Aug 2023 | Tue 29 Aug 2023 | Available | $2465 | RESERVATION |
| Sat 2 Sep 2023 | Tue 12 Sep 2023 | Available | $2465 | RESERVATION |
| Sat 16 Sep 2023 | Tue 26 Sep 2023 | Available | $2465 | RESERVATION |
| Sat 30 Sep 2023 | Tue 10 Oct 2023 | Available | $2465 | RESERVATION |
| Sat 14 Oct 2023 | Tue 24 Oct 2023 | Available | $2465 | RESERVATION |
| Sat 28 Oct 2023 | Tue 7 Nov 2023 | Available | $2465 | RESERVATION |
| Sat 11 Nov 2023 | Tue 21 Nov 2023 | Available | $2465 | RESERVATION |
| Sat 25 Nov 2023 | Tue 5 Dec 2023 | Available | $2465 | RESERVATION |
| Sat 9 Dec 2023 | Tue 19 Dec 2023 | Available | $2465 | RESERVATION |
| Sat 23 Dec 2023 | Tue 2 Jan 2024 | Available | $2465 | RESERVATION |
| Sat 6 Jan 2024 | Tue 16 Jan 2024 | Available | $2465 | RESERVATION |
| Sat 20 Jan 2024 | Tue 30 Jan 2024 | Available | $2465 | RESERVATION |
| Sat 3 Feb 2024 | Tue 13 Feb 2024 | Available | $2465 | RESERVATION |
| Sat 17 Feb 2024 | Tue 27 Feb 2024 | Available | $2465 | RESERVATION |
| Sat 2 Mar 2024 | Tue 12 Mar 2024 | Available | $2465 | RESERVATION |
| Sat 16 Mar 2024 | Tue 26 Mar 2024 | Available | $2465 | RESERVATION |
| Sat 30 Mar 2024 | Tue 9 Apr 2024 | Available | $2465 | RESERVATION |
| Sat 13 Apr 2024 | Tue 23 Apr 2024 | Available | $2465 | RESERVATION |
| Sat 27 Apr 2024 | Tue 7 May 2024 | Available | $2465 | RESERVATION |
| Sat 11 May 2024 | Tue 21 May 2024 | Available | $2465 | RESERVATION |
| Sat 25 May 2024 | Tue 4 Jun 2024 | Available | $2465 | RESERVATION |
| Sat 8 Jun 2024 | Tue 18 Jun 2024 | Available | $2465 | RESERVATION |
| Sat 22 Jun 2024 | Tue 2 Jul 2024 | Available | $2465 | RESERVATION |
| Sat 6 Jul 2024 | Tue 16 Jul 2024 | Available | $2465 | RESERVATION |
| Sat 20 Jul 2024 | Tue 30 Jul 2024 | Available | $2465 | RESERVATION |
| Sat 3 Aug 2024 | Tue 13 Aug 2024 | Available | $2465 | RESERVATION |
| Sat 17 Aug 2024 | Tue 27 Aug 2024 | Available | $2465 | RESERVATION |
| Sat 31 Aug 2024 | Tue 10 Sep 2024 | Available | $2465 | RESERVATION |
| Sat 14 Sep 2024 | Tue 24 Sep 2024 | Available | $2465 | RESERVATION |
| Sat 28 Sep 2024 | Tue 8 Oct 2024 | Available | $2465 | RESERVATION |
| Sat 12 Oct 2024 | Tue 22 Oct 2024 | Available | $2465 | RESERVATION |
| Sat 26 Oct 2024 | Tue 5 Nov 2024 | Available | $2465 | RESERVATION |
| Sat 9 Nov 2024 | Tue 19 Nov 2024 | Available | $2465 | RESERVATION |
| Sat 23 Nov 2024 | Tue 3 Dec 2024 | Available | $2465 | RESERVATION |
| Sat 7 Dec 2024 | Tue 17 Dec 2024 | Available | $2465 | RESERVATION |
| Sat 21 Dec 2024 | Tue 31 Dec 2024 | Available | $2465 | RESERVATION |
Cost per person: $2465 USD
Single supplement: $345 USD
MAKING AN INQUIRY
All of our tours can be customized for private travel according to your preferences and dates. Click below to tell us what you're looking for:
Plan my Trip