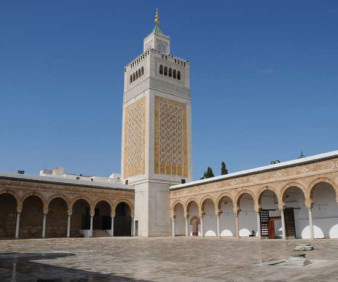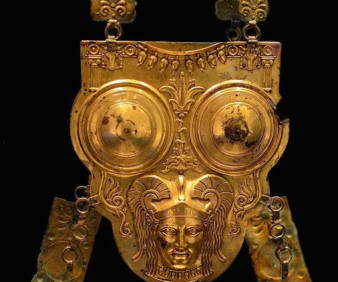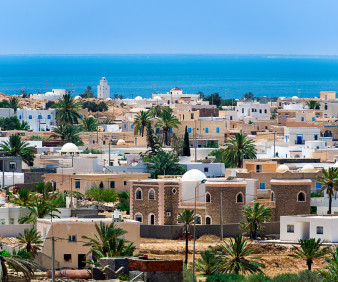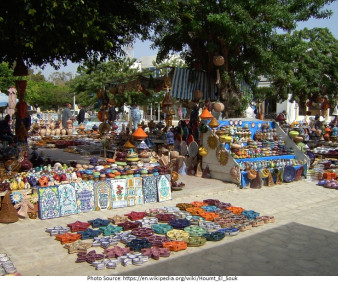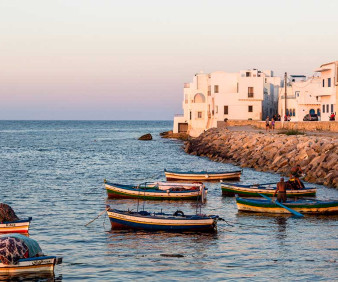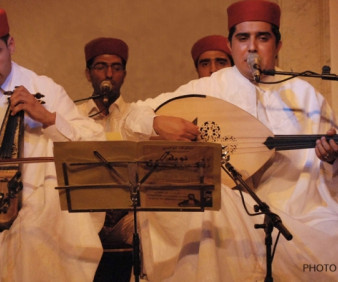 Welcome to our Tunisia cultural tours in-depth. Join our group cultural tour or contact us for a Tunisia customized tour just for you. Our cultural and historical Tunisia tours will live up to your expectations with even more rewarding travel discoveries and incentives. Looking forward to creating wonderful memories with you on these in-depth Tunisia cultural tours scheduled for 2022 and 2023.
Kairouan was the Tunisia capital for five centuries was a place of outstanding learning center of diffusion of Arabo-Muslim civilization. Kairouan bears unique witness to the first centuries of this Islamic settlement in Tunisia with a thriving civilization, a new style of architectural and urban development that gives Tunisia a cultural aspect different than any other Mediterranean destination. The inscribed site of Al Qayrawan is a serial property that includes the medina (Old City) and its neighborhoods, the water reservation Basins of the Aghlabids Dynasty, and the Gates and markets, schools, and Sufi Zawiyas. The medina (54 ha) and its suburbs (20 ha) are an urban ensemble presenting all the components of a cultural amalgamation of North African Arab-Turkish town. Taking a culturally guided tour at Kairouan is like stepping into an ancient sophisticated world of arts and crafts with a zest for life.
The medina comprises juxtaposed dwellings divided into quarters separated by medieval blind alleys, narrow and winding streets; as in most of the North African cultural cities, a fortifying wall will serve to protect the city from intruders. Kairouan ramparts extend over more than three kilometers. The medina contains some remarkable monuments including the Great Mosque, an architectural masterpiece that served as a model for several other Maghreban spiritual and cultural centers. The Mosque of the Three Doors represents the most ancient existent sculpted facade of Muslim art. The Basins of the Aghlabids, an open-air reservoir formed by two communicating cisterns that date back to the 9th century, constitute one of the most beautiful hydraulic ensembles conceived to provide water to the town. Tunisia tours to remember forever. Sign up for this Tunisia trip, you will be enchanted.
DAY TO DAY ITINERARY
Day 1: Arrival to Tunis
Welcome to Tunisia tours and discoveries. Upon your arrival at Tunis Airport, you will meet your tour leader who will transfer you to your hotel in Tunis. After lunch, your local guide will take you on a cultural and historic tour exploring the marvels of Tunis, Carthage. A former palace, the Bardo Museum accommodates the finest repository of Roman mosaics in the world. The afternoon will be devoted to visiting the principal cultural and historic sites of Carthage, the capital of the Punic (or Carthaginian) world, and later the second city in the western Roman Empire after Rome. We have the best informed Tunisian guides who not only enlighten your Tunisia cultural encounter with history but also with cultural layers of this ancient destination walking with you everywhere and answering your questions with accuracy about all that is cultural Tunisia to your interest.
Day 2: Tunis walking tour
On our second of our Tunisia trip, you will enjoy a day exploring the marvels of Tunis's historic and cultural discovery with your local guide. Tunis Medina is the quintessentially model of a typical Islamic city vibrant with a maze of narrow alleys crammed with ancient buildings, covered markets from the scorching sun, public fountains, and Koranic schools, arches, and beautiful gates. In the midst of the Great Mosque of 9th-century origin, one of North Africa's most significant Islamic buildings. The rest of the day is free for wandering the Medina or relaxing at the hotel. In the evening a private visit to the Ennejma Ezzahra (Splendid Star), built by master craftsmen in the 1900s as a home for the Baron Rodolphe d'Erlanger, in homage to his passion for the Middle East. It is now a museum and the Centre for Arab and Mediterranean Music. Overnight Tunis.
Day 3: Udna -Thuburbo - Zaghouane - Kairouan
After breakfast, we will travel overland to Kairouan visiting the way the ancient sites of Carthaginian, Roman, and Islamic highlight of historic importance. Visit the Roman site of Athina, a chance to see several good quality mosaics in situ. The amphitheater has underground vaulted cells that still witness the echo of ancient civilizations. Thuburbo Majus is a typical Roman city model, with a colonnaded forum, fine temples, houses, and baths. Explore the old irrigation system unique to this area a 51 km long aqueduct joining Carthage to Zaghouane still stands in glory. This aqueduct is mesmerizing with its water temple at the natural springs of Zaghouane ostentatiously set over the hill to celebrate the importance all civilizations of the past have given to water especially Muslims who originate from the desert. Dinner and Overnight are in Kairouan.
Day 4: Kairouan Cultural and Historic Tour
After breakfast, you will meet your Tunisian local guide who will lead you to explore the marvels of the first Islamic city in North Africa. The morning is spent in Kairouan, with visits to the Medina and the Great Mosque (8th/9th century) and other examples of local traditional architecture. The immense colosseum at El Djem could hold 30,000 and is a remarkable sight, towering over its modern surroundings. The small museum nearby contains some exquisite mosaics. On your final night in Kairouan, you are invited to a farewell dinner in a traditional restaurant with live music to crown your cultural discovery tour of Tunisia.
Day 5: Tunis Airport
Transfer in time to Tunis Airport to catch your flight to your next destination. Thank you for your patronage. Goodbye for now, come back and visit us again on another Tunisia cultural tour.
What is included:
Services of local guides
Hotel taxes and service charges
Breakfast, and dinner daily
Fees to Monuments and Museums
Transportation in Deluxe vehicles
Excellent tour leader
Hotels Used:
| DEPARTING | FINISHING | SEATS | TOTAL IN USD | |
| --- | --- | --- | --- | --- |
| Tue 13 Jun 2023 | Sun 18 Jun 2023 | Available | $1465 | RESERVATION |
| Tue 20 Jun 2023 | Sun 25 Jun 2023 | Available | $1465 | RESERVATION |
| Tue 27 Jun 2023 | Sun 2 Jul 2023 | Available | $1465 | RESERVATION |
| Tue 4 Jul 2023 | Sun 9 Jul 2023 | Available | $1465 | RESERVATION |
| Tue 11 Jul 2023 | Sun 16 Jul 2023 | Available | $1465 | RESERVATION |
| Tue 18 Jul 2023 | Sun 23 Jul 2023 | Available | $1465 | RESERVATION |
| Tue 25 Jul 2023 | Sun 30 Jul 2023 | Available | $1465 | RESERVATION |
| Tue 1 Aug 2023 | Sun 6 Aug 2023 | Available | $1465 | RESERVATION |
| Tue 8 Aug 2023 | Sun 13 Aug 2023 | Available | $1465 | RESERVATION |
| Tue 15 Aug 2023 | Sun 20 Aug 2023 | Available | $1465 | RESERVATION |
| Tue 22 Aug 2023 | Sun 27 Aug 2023 | Available | $1465 | RESERVATION |
| Tue 29 Aug 2023 | Sun 3 Sep 2023 | Available | $1465 | RESERVATION |
| Tue 5 Sep 2023 | Sun 10 Sep 2023 | Available | $1465 | RESERVATION |
| Tue 12 Sep 2023 | Sun 17 Sep 2023 | Available | $1465 | RESERVATION |
| Tue 19 Sep 2023 | Sun 24 Sep 2023 | Available | $1465 | RESERVATION |
| Tue 26 Sep 2023 | Sun 1 Oct 2023 | Available | $1465 | RESERVATION |
| Tue 3 Oct 2023 | Sun 8 Oct 2023 | Available | $1465 | RESERVATION |
| Tue 10 Oct 2023 | Sun 15 Oct 2023 | Available | $1465 | RESERVATION |
| Tue 17 Oct 2023 | Sun 22 Oct 2023 | Available | $1465 | RESERVATION |
| Tue 24 Oct 2023 | Sun 29 Oct 2023 | Available | $1465 | RESERVATION |
| Tue 31 Oct 2023 | Sun 5 Nov 2023 | Available | $1465 | RESERVATION |
| Tue 7 Nov 2023 | Sun 12 Nov 2023 | Available | $1465 | RESERVATION |
| Tue 14 Nov 2023 | Sun 19 Nov 2023 | Available | $1465 | RESERVATION |
| Tue 21 Nov 2023 | Sun 26 Nov 2023 | Available | $1465 | RESERVATION |
| Tue 28 Nov 2023 | Sun 3 Dec 2023 | Available | $1465 | RESERVATION |
| Tue 5 Dec 2023 | Sun 10 Dec 2023 | Available | $1465 | RESERVATION |
| Tue 12 Dec 2023 | Sun 17 Dec 2023 | Available | $1465 | RESERVATION |
| Tue 19 Dec 2023 | Sun 24 Dec 2023 | Available | $1465 | RESERVATION |
| Tue 26 Dec 2023 | Sun 31 Dec 2023 | Available | $1465 | RESERVATION |
| Tue 2 Jan 2024 | Sun 7 Jan 2024 | Available | $1465 | RESERVATION |
| Tue 9 Jan 2024 | Sun 14 Jan 2024 | Available | $1465 | RESERVATION |
| Tue 16 Jan 2024 | Sun 21 Jan 2024 | Available | $1465 | RESERVATION |
| Tue 23 Jan 2024 | Sun 28 Jan 2024 | Available | $1465 | RESERVATION |
| Tue 30 Jan 2024 | Sun 4 Feb 2024 | Available | $1465 | RESERVATION |
| Tue 6 Feb 2024 | Sun 11 Feb 2024 | Available | $1465 | RESERVATION |
| Tue 13 Feb 2024 | Sun 18 Feb 2024 | Available | $1465 | RESERVATION |
| Tue 20 Feb 2024 | Sun 25 Feb 2024 | Available | $1465 | RESERVATION |
| Tue 27 Feb 2024 | Sun 3 Mar 2024 | Available | $1465 | RESERVATION |
| Tue 5 Mar 2024 | Sun 10 Mar 2024 | Available | $1465 | RESERVATION |
| Tue 12 Mar 2024 | Sun 17 Mar 2024 | Available | $1465 | RESERVATION |
| Tue 19 Mar 2024 | Sun 24 Mar 2024 | Available | $1465 | RESERVATION |
| Tue 26 Mar 2024 | Sun 31 Mar 2024 | Available | $1465 | RESERVATION |
| Tue 2 Apr 2024 | Sun 7 Apr 2024 | Available | $1465 | RESERVATION |
| Tue 9 Apr 2024 | Sun 14 Apr 2024 | Available | $1465 | RESERVATION |
| Tue 16 Apr 2024 | Sun 21 Apr 2024 | Available | $1465 | RESERVATION |
| Tue 23 Apr 2024 | Sun 28 Apr 2024 | Available | $1465 | RESERVATION |
| Tue 30 Apr 2024 | Sun 5 May 2024 | Available | $1465 | RESERVATION |
| Tue 7 May 2024 | Sun 12 May 2024 | Available | $1465 | RESERVATION |
| Tue 14 May 2024 | Sun 19 May 2024 | Available | $1465 | RESERVATION |
| Tue 21 May 2024 | Sun 26 May 2024 | Available | $1465 | RESERVATION |
| Tue 28 May 2024 | Sun 2 Jun 2024 | Available | $1465 | RESERVATION |
| Tue 4 Jun 2024 | Sun 9 Jun 2024 | Available | $1465 | RESERVATION |
| Tue 11 Jun 2024 | Sun 16 Jun 2024 | Available | $1465 | RESERVATION |
| Tue 18 Jun 2024 | Sun 23 Jun 2024 | Available | $1465 | RESERVATION |
| Tue 25 Jun 2024 | Sun 30 Jun 2024 | Available | $1465 | RESERVATION |
| Tue 2 Jul 2024 | Sun 7 Jul 2024 | Available | $1465 | RESERVATION |
| Tue 9 Jul 2024 | Sun 14 Jul 2024 | Available | $1465 | RESERVATION |
| Tue 16 Jul 2024 | Sun 21 Jul 2024 | Available | $1465 | RESERVATION |
| Tue 23 Jul 2024 | Sun 28 Jul 2024 | Available | $1465 | RESERVATION |
| Tue 30 Jul 2024 | Sun 4 Aug 2024 | Available | $1465 | RESERVATION |
| Tue 6 Aug 2024 | Sun 11 Aug 2024 | Available | $1465 | RESERVATION |
| Tue 13 Aug 2024 | Sun 18 Aug 2024 | Available | $1465 | RESERVATION |
| Tue 20 Aug 2024 | Sun 25 Aug 2024 | Available | $1465 | RESERVATION |
| Tue 27 Aug 2024 | Sun 1 Sep 2024 | Available | $1465 | RESERVATION |
| Tue 3 Sep 2024 | Sun 8 Sep 2024 | Available | $1465 | RESERVATION |
| Tue 10 Sep 2024 | Sun 15 Sep 2024 | Available | $1465 | RESERVATION |
| Tue 17 Sep 2024 | Sun 22 Sep 2024 | Available | $1465 | RESERVATION |
| Tue 24 Sep 2024 | Sun 29 Sep 2024 | Available | $1465 | RESERVATION |
| Tue 1 Oct 2024 | Sun 6 Oct 2024 | Available | $1465 | RESERVATION |
| Tue 8 Oct 2024 | Sun 13 Oct 2024 | Available | $1465 | RESERVATION |
| Tue 15 Oct 2024 | Sun 20 Oct 2024 | Available | $1465 | RESERVATION |
| Tue 22 Oct 2024 | Sun 27 Oct 2024 | Available | $1465 | RESERVATION |
| Tue 29 Oct 2024 | Sun 3 Nov 2024 | Available | $1465 | RESERVATION |
| Tue 5 Nov 2024 | Sun 10 Nov 2024 | Available | $1465 | RESERVATION |
| Tue 12 Nov 2024 | Sun 17 Nov 2024 | Available | $1465 | RESERVATION |
| Tue 19 Nov 2024 | Sun 24 Nov 2024 | Available | $1465 | RESERVATION |
| Tue 26 Nov 2024 | Sun 1 Dec 2024 | Available | $1465 | RESERVATION |
| Tue 3 Dec 2024 | Sun 8 Dec 2024 | Available | $1465 | RESERVATION |
| Tue 10 Dec 2024 | Sun 15 Dec 2024 | Available | $1465 | RESERVATION |
| Tue 17 Dec 2024 | Sun 22 Dec 2024 | Available | $1465 | RESERVATION |
| Tue 24 Dec 2024 | Sun 29 Dec 2024 | Available | $1465 | RESERVATION |
| Tue 31 Dec 2024 | Sun 5 Jan 2025 | Available | $1465 | RESERVATION |
Cost per person: $1465 USD
Single supplement: $280 USD
MAKING AN INQUIRY
All of our tours can be customized for private travel according to your preferences and dates. Click below to tell us what you're looking for:
Plan my Trip